Nephrology News
---
September 2023: Dr. Vallon Volker gave an interview as part of the American Heart Association Hypertension 2023 Scientific Sessions, taking place September 7–10, 2023 in Boston. The interview is available to stream here.
April 2023: Congratulations to Dr. Volker Vallon and the workshop team for completion of the 10th Rodent Kidney Physiology/ Injury Workshop, focusing on hands-on whole kidney and single nephron function analysis models of acute and chronic kidney disease.
March 2023: The Division of Nephrology-Hypertension are so excited and grateful for the generous donation from Darrell and Dorthy Ann Fanestil. Read more about it here.
December 2022:  Congratulations to Dr. Sushil Mahata for three recent publications in Peptides, Methods in Molecular Biology, and Frontiers in Endocrinology!
December 2022: Dr. Joachim Ix has been appointed as the Darrell and Dorthy Ann Fanestil Family Chancellor's Endowed Chair in Nephrology-Hypertension. Established by Dr. Darrell D. Fanestil and Mrs. Dorthy Ann Fanestil as part of the Chancellor's Chair Challenge, this endowed chair allows for the recruitment and retention of a distinguished faculty within the Division of Nephrology-Hypertension.
October 2022: Congratulations to Tyler Woodell for being named one of the Associate Program Directors for the UCSD Internal Medicine residency training program. Read the announcement here.
August 2022: Congratulations to Charles Ginsberg, Lindsay Miller, and Joachim Ix on their work studying differences in phosphate and PTH over the day in person on hemodialysis: Available on JASN News
August 2022: Congratulations to Dr. Charles Ginsberg on being awarded a renewal from the NIH Loan Repayment Program. This program will help pay off Dr. Ginsberg's student debt while he continues his research at UCSD.
August 2022: Congratulations to our research fellow Jonathan Cheng! His abstract was selected to be presented at the ASBMR 2022 Annual Meeting in the Plenary poster session, and he was selected for the ASBMR 2022 Annual Meeting Young Investigator Travel Grant.
July 2022: Charles Ginsberg on Osteoporosis in Advanced Kidney Disease: An Interview
May 2022: Congrats to Dr. Garimella for receiving the UC San Diego May Staff Physician Professionalism Award for honoring the core values of quality, care, integrity, respectfulness, and teamwork and promoting a culture of safety. Nominated by Dr. Kyle Edmonds at UC San Diego Palliative Care.
May 2022: Congratulations to Drs Sweiss, Karl, Rubenzik and Sanchez, for their great leadership, and to their teams across outpatient disciplines. UC San Diego Nephrology was ranked #1 in the 2021-2022 Patient Experience Survey at UC San Diego Health for "Likelihood to Recommend".
January 17, 2022: Editorial by Alexander L. Bullen: The Biomarker Promised Land. Are We There Yet? Not Yet
Dr. Alison Potok: Former UC San Diego Nephrology fellow, and current faculty within our division, Dr. Alison Potok has been awarded an NIDDK K23 grant! Alison will focus her research on the Clinical Applications of the Difference in Estimated Glomerular Filtration Rate by Cystatin C vs. Creatinine, for Prognosis in the Long Term and Drug Dosing in the Short Term. This is such an important milestone for Alison — our division is incredibly proud of her!
A huge congrats to Drs Dena Rifkin, Joseph Abdelmalek, and Tyler Woodell for receiving the Chief Medical Resident Award this year! Each year, the internal medicine chief medical residents choose faculty that they wish to honor and recognize for their teaching contributions to the housestaff. Seven such awards are given annually, one for each chief resident.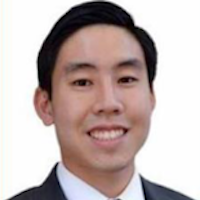 Jon Cheng: Nephrology research fellow, Jon Cheng, was recently awarded an NIH Loan Repayment grant funded by the NIDDK!
Congratulations to Jon Cheng on his acceptance into the UCSD Improving the Health of Aging Women and Men T32 Program! Jon will study free vitamin D and cardiovascular disease under the mentoship of Drs Joachim Ix, Charles Ginsberg, and Andrea LaCroix.
Thanks to Dr. Bethany Karl's hard work and commitment, UC San Diego Nephrology now supports wRVU lactation accommodation for new doctor moms. A physician mom returning from maternity leave will be supported with 3 wRVUs per one 30-minute block during a 1/2 day ambulatory clinic reserved for lactation.
Archive
---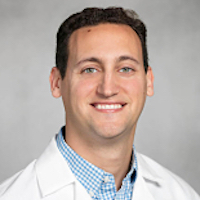 Former UC San Diego Nephrology Fellow and current Assistant Professor, Dr. Charles Ginsberg, received a Notice of Grant Award for his first NIH/NIDDK R01. Dr. Ginsberg will partner with UCSD Radiation Medicine colleagues to evaluate the utility of tilmanocept imaging for the early diagnosis of diabetic neuropathy.
Navidea Biopharmaceuticals recently posted a press release announcing an NIH grant award to Dr. Charles Ginsberg and other UCSD colleagues for the "Clinical Study Evaluating Tc99m Tilmanocept as a Kidney Imaging Agent."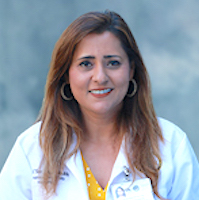 Dr. Prabhleen Singh was recently awarded a Senior Clinical Scientist grant from the VA. In addition, her VA Merit Award "Renal Oxygenation and Mitochondrial Function in the Pathophysiology of Kidney Disease" was renewed for an additional 6 years! Congrats Dr. Singh!
"Therapeutic Plasma Exchange in the Critically Ill Patient: Technology and Indications" from apheresis expert, Dr. Amber Sanchez, is now available online!
Our Division was recently awarded the Satellite Healthcare Home Dialysis Fellow Program Grant! A special thanks to Dr. Cynthia Miracle for working diligently on our proposal!
Drs Etienne Macedo and Ravindra Mehta's publication "Regional Citrate Anticoagulation for Continuous Kidney Replacement Therapy with Calcium-Containing Solutions: A Cohort Study" is now available to readers online.
New publications from Dr. Sushil K. Mahata! "Chromogranin A Regulates Gut Permeability via the Antagonistic Actions of its Proteolytic Peptides" and "Immunosuppression of Macrophages Underlies the Cardioprotective Effects of CST (Catestatin)."
Dr. Robert Steiner's most recent publication is now in print: "Complexities of eGFRs in a Study of Glomerular Physiology."
Check out Dr. Pranav Garimella's latest co-authored publication- "Central and Peripheral Arterial Diseases in Chronic Kidney Disease: Conclusions from a Kidney Disease: Improving Global Outcomes (KDIGO) Controversies Conference."
Dr Rakesh Malhotra and former fellow and T32 trainee, Ujjala Kumar, recently published "Physical Activity in Hemodialysis Patients on Nondialysis and Dialysis Days: Prospective Observational Study." Drs Pranav Garimella, Joachim Ix, and Danuta Trzebinska were also a part of the study.
As of April of 2021 Dr. Charles Ginsberg has taken over as the new site-PI (UCSD) for the Osteoporotic Fractures in Men (MrOS) Study.
Former Nephrology Division T32 trainee and current F32 grant awardee, Dr. Lindsay Miller, just published "Association of Urine Biomarkers of Kidney Tubular Injury and Dysfunction with Frailty Index and Cognitive Function in Persons with CKD in SPRINT." Lindsay published this article alongside her mentors, Drs Dena Rifkin and Joachim Ix. Congrats Lindsay!
Chief of Nephrology at the VASDHS, Dr. Scott Thomson, and Director of Renal Physiology for the O'Brien Core Center for Acute Kidney Injury Research, Dr. Volker Vallon, just published "Effects of SGLT2 Inhibitor and Dietary NaCl on Glomerular Hemodynamics Assessed by Micropuncture in Diabetic Rats" on the American Journal of Physiology.
Straight out of the press! Dr. Prabhleen Singh's most recent publication "Altered Lung Metabolism and Mitochondrial DAMPs in Lung Injury Due to Acute Kidney Injury."
Dr. Volker Vallon's latest publication "Effects of SGLT2 Inhibitors on Kidney and Cardiovascular Function" is now available for online reading through the link above.
Christine Bakhoum, one our star T32 fellows, recently published "Proteinuria and Nocturnal Blood Pressure Dipping in Hypertensive Children and Adolescents." Drs Caitlin Carter, Francis Gabbai, Joachim Ix, and Pranav Garimella are also authors on this Pediatric Research publication.
Another of our star T32 fellows, Erika Allred, recently published a case in Pediatric Nephrology titled "Flank Pain and Gross Hematuria: An Uncommon Presentation of a Rare Disease." The article contains a second portion addressing questions raised in the first article.
Dr Etienne Macedo's recent publication is now available online: Recognition and Management of Community-Acquired Acute Kidney Injury in Low-Resource Settings in the ISN 0by25 Trial: A Multi-Country Feasibility Study.
Our Division is excited to welcome Helen Tesfai, PA-C to our Nephrology Team!
Our Kidney Transplant Program was ranked 7th in the nation in outcomes by the Scientific Registry of Transplant Recipients. We are incredibly proud of our amazing UC San Diego Kidney Transplant Team!
You may download and read a copy of Dr. Michael Baker's latest publication "Progesterone: An Enigmatic Ligand for the Mineralocorticoid Receptor" here.
Applications are now open for the August 4-9, 2021 Nephrology Business Leadership University (NBLU) annual program. This event has been invaluable and life-changing for so many of our nephrology fellows. Apply ASAP!
We are excited to announce that this April Dr. Joachim Ix was awarded a new R01 grant from the NIDDK. Dr. Ix will be collaborating with Dr. Alexander Bullen as well as colleagues from the University of Alabama at Birmingham and Oregon State University in a project titled "Kidney Tubule Dysfunction and Future Risk of Acute Kidney Injury."
Check out Dr. Amber Sanchez's recent publication on the Journal of Clinical Apheresis, Update to the ASFA Guidelines on the use of Therapeutic Apheresis in ANCA-Associated Vasculitis.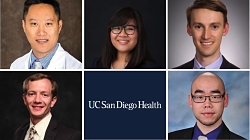 2020 Fellowship Match: We are thrilled to welcome Jeffrey Chow, Clark Crane, Andrew Liu, Jennifer Pham, and Luke Webster into our UC San Diego Nephrology family! All five start their first year of fellowship this July, 2021. We are eager to have them here in San Diego!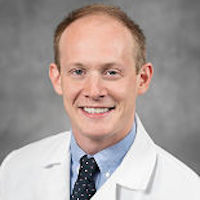 2020 Chief Resident Teaching Award: Dr. Tyler Woodell is the recipient of the 2020 Chief Resident Teaching Award from the Internal Medicine graduating chief medical residents. This is a terrific honor, as it represents the Chiefs' choice for the one faculty member for the inspiration, guidance, and mentorship they provided throughout their 4 years in their residency program. Congratulations Dr. Woodell!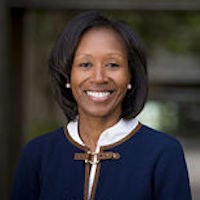 2020 UC San Diego Inclusive Excellence Award: With a lot of pride and excitement we congratulate Dr. Cheryl Anderson, Dean of the School of Public Health & Human Longevity Science at UC San Diego, for being the Health Sciences recipient of the 2020 UC San Diego Inclusive Excellence Award. Our Division is very proud of Dr. Anderson's commitment and contribution to a more inclusive, equitable, and diverse community at UC San Diego!
Dr. Cheryl Anderson was recently named founding dean of the School of Public Health & Human Longevity Science at UC San Diego. Part of our faculty, and mentor to several of our fellows, our Division is proud of Dr. Anderson's new appointment.
This past May Dr. Cheryl Anderson was honored with the inaugural UC San Diego Health Sciences Women Leadership Award.
Check out Dr. Amber Sanchez's recent publication on the Journal of Clinical Apheresis, Update to the ASFA Guidelines on the use of Therapeutic Apheresis in ANCA-Associated Vasculitis.
Global Assessment of Acute Kidney Disease Incidence and Outcomes in Patients with COVID-19 Infection: Drs. Etienne Macedo and Ravindra Mehta have initiated a global study evaluating COVID-19 positive patients with kidney disease.
Multicenter Study of COVID-19 Disease in Critically Ill Patients in the US: Examination of the Incidence, Risk Factors, Clinical Features, and Outcomes of Acute and Chronic Kidney Disease: Dr. Mehta is further participating in COVID-19 research at UC San Diego (A Randomized, Double-blind, Placebo-Controlled Trial to Evaluate the Efficacy of Ramipril to Prevent ICU Admission, Mechanical Ventilation or Death in Persons with COVID-19) and a Boston based study.
100th successful kidney transplant: This past October our dedicated team of UC San Diego nephrologists and surgeons completed their 100th successful kidney transplant for the year. Despite an ongoing global pandemic, our healthcare team continues to work very hard to provide the best and most expedient care possible for our patients.
Last June Dr. Sushil K. Mahata was awarded an R21 award for "The Role of Chromogranin A in Tauopathy."
A huge congrats to Dr. Scott Mullaney for making the list of San Diego's Top Doctors 2020!! We are very proud of you Dr. Mullaney!!
Nephrology Division Chief, Dr. Joachim H. Ix, was recently awarded the prestigious Dr. Shaul G. Massry Distinguished Lecture Award from the National Kidney Foundation.